Castles sit above the middle Rhine in Germany every few miles. The most imposing castle ruin you can tour is Rheinfels Castle, which towers over the tiny town of St. Goar. The castle, built in 1275, housed Counts and stood for centuries as an impregnable fortress. Finally, in 1796, French troops breached the walls and then blew it up.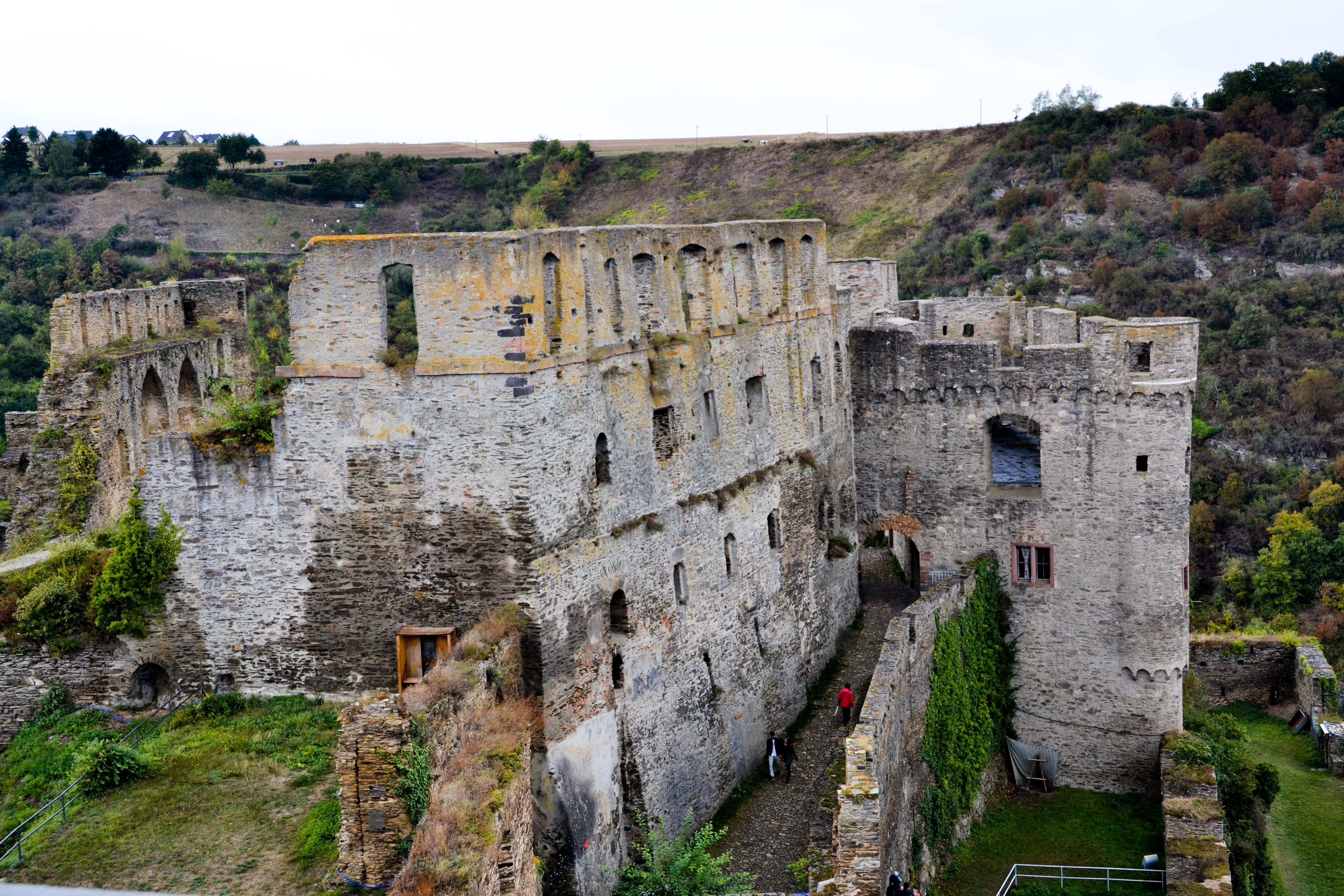 Visiting Rheinfels Castle Today
Today, Rheinfels Castle lacks roofing on the top areas, but many of the walls, walkways, and rooms survive.
You can see the layers of stones and bricks, with the exposed walls. Imagine the years it took to build this complicated structure in the 1200s.
Nature encroaches on the grounds, but the beauty of the area is only enhanced by the greenery and trees (especially with the changing leaves when we visited in the fall).
If you climb the high walls, you can take in an awesome view of the Rhine valley.
Across the river is a "sister" castle built by another Count. Together, these 2 castles kept out intruders for hundreds of years. It's fun to immerse yourself in this world of fortresses and intrigue.
Tips for a Visit to Rheinfels Castle

If you go:
Open from March to November 9:00 to 6:00. Though it's closed in winter, you can plan ahead to visit!
Admission is 5 Euro for adults, 2.50 for children (a bargain!)
You can arrive by boat or train from elsewhere along the Rhine. We stayed in St. Goar at the Hotel Rheinfels, which is comfortable, overlooks the Rhine, and has a fabulous breakfast spread.
You can walk up the hill from the town or you can take the tram, the Castle Express, for 4 Euro round trip. It's a steep hike, and it was raining off and on when we visited, so we took the tram. So easy.
Note that throwing of stones on the castle grounds is strictly prohibited, and you are not allowed to spit from the towers (!).
PIN IT FOR LATER!