Normandy, France is a quiet region just west of Paris. It reaches to the coast along the English Channel and is home to farms and towns, rivers and bridges, historic buildings and cathedrals, shops and harbors. It will forever be remembered as where the Allies landed on D-Day 1944. Fierce battles flared up all along the Norman beaches and reached into the lives of the civilians inland, too. Memorials and museums tell the stories today.
In this area that's rich in history, you'll also find world-famous foods. And one particular garden is worth a day trip for sure.
While I've enjoyed my trips to Normandy, I still haven't made it to Mont Saint-Michel or the city of Rouen or many other sights I hope to see someday. But I have spent enough time in Normandy to tell you about some of the highlights. Here are some great reasons to plan a trip to Normandy.
Stay in Fairytale Medieval Towns of Normandy, France
Towns are both on the coast and inland in rolling farmland. Here's one of each to inspire you to visit!
Honfleur
Honfleur lies at the end of the Seine River as it flows into the English Channel. It's an excellent example of seaside Normandy. The harbor will charm you. The cobblestone streets feature shops and cafes in historic buildings.
Bayeux
Just about six miles from the coast, Bayeux is my favorite Normandy town to visit.
It's an excellent base to travel anywhere in Normandy. Miraculously spared from bombing in World War II, Bayeux will take you back centuries in time. The architecture and streets date from Medieval days or earlier.
The towering cathedral that dominates the skyline of Bayeux began its life in 1077. It was consecrated in the presence of William, Duke of Normandy, King of England. Built in the Norman-Romanesque style it was damaged and rebuilt with Gothic elements. It's beautiful inside and out.
If you are interested in art, head to see the Bayeux Tapestry. Listed as a World Heritage site by UNESCO, the Bayeux Tapestry draws visitors from all over the world. It is an embroidered cloth almost 230 feet in length and 20 inches high. The intricate scenes depict events leading up to the Norman conquest of England by William, Duke of Normandy and ending with the Battle of Hastings. It is the largest and most well-preserved artwork in this style from the Middle Ages. It's valued not only for its contribution to the story of the Norman invasion but also for showing aspects of medieval daily life and war.
Read more about Honfleur.
Read more about Bayeux.
Explore Lovely Countryside Lanes
You can ride or bicycle for miles through peaceful countryside in Normandy. Just back from the coastline, the land turns green.
Small towns still feature market squares and Medieval winding roads. On sections of this pastoral land, battles were fought for bridges, roads, and cities. The quiet country lanes belie the chaos and violence that took place here.
Herds of Normandy cattle plod along. The infamous hedgerows that hampered the Allies in the war still line the roads, though they are disappearing with time.
We visited one deserted farm that's said to be haunted.
Winding around the roads in Normandy, you may easily get lost. At least, on my trips here I've been lost several times. That's fine, though, because you can continue along the scenic byways until you happen onto a highway again.
Indulge in Fresh Normandy Cuisine
Normandy, France is renowned for its food. Most famous are its cheeses, butter, fresh produce, and seafood. If you are a foodie at heart, Normandy will satisfy you.
The towns offer the typical French sidewalk cafes. Boulangeries bake fresh breads daily. We found this café during our stay in Bayeux and ended up going there every day for breakfast.
And for lunches, you can put together your own picnic, with cheese, olives, fruit, a baguette, local caramels that melt in your mouth, and that bottle of wine to top it off.
Immerse Yourself in History at the D-Day Beaches
During a visit to Normandy, it's fitting to remember what took place here during the largest invasion by water in history. On June 6, 1944, the Allies landed along 60 miles of Normandy beaches to set in motion the liberation of Europe from the Nazis. There were five separate landings to Operation Overlord by American, British, and Canadian troops involving 160,000 soldiers. Code names for the 5 beaches are Utah, Omaha, Gold, Juno, and Sword. Whether you have time to go to one or all of these landing sites, your visit will be memorable.
Read more about Omaha Beach here.
Read more about Utah Beach here.
Read more about Gold, Juno, and Sword Beaches here.
Memorials can be found all over the landing beaches area. One that's especially striking is the imposing sculpture at the far west end of Omaha Beach, in Vierville-sur-Mer. Called The Brave, this art honors the courage of the men – sons, husbands, and fathers – who faced danger and often sacrificed themselves in the hope of freeing the French people. These "wings of hope" remind us all to stand strong for freedom and to speak up against all forms of inhumanity.
Take in History at the Many Museums
Normandy, France has seen layers of history. Museums offer places to learn about everything from the Battle of Hastings in 1066 at the Bayeux Tapestry museum to all that happened here in World War II. Here are a few museums I've visited and can recommend.
Utah Beach Landing Museum
This museum offers an outstanding collection of World War II items, large and small. In one section you can look through windows onto the beach. There's also a hangar to display aircraft.
Musée Mémorial d'Omaha Beach
A small museum is next to the cemetery at Omaha Beach. It offers displays of uniforms, military vehicles, and even objects of civilians caught in the battles. At the entrance to the museum, and an infinity pool leads to the beach and causes you to reflect on what happened here.
Memorial Museum of the Battle of Normandy
This excellent museum presents in chronological order the events of the battle for Normandy, France, starting with the D-Day landings and continuing on through the summer of 1944. You'll find quite a collection of tanks and other vehicles, and numerous displays of items from World War II both inside and outdoors.
Airborne Museum, Sainte Mere Eglise
The town of Sainte Mere Eglise experienced fighting even before D-Day dawned. In the dark, early morning hours, paratroopers from the 101 Airborne were mistakenly dropped into the town. The battle lasted a few hours, and by morning the Germans retreated. Sainte Mere Eglise was liberated.
The Airborne Museum pays tribute to the paratroopers who landed here and the planes that flew in the battle. Full-sized aircraft housed in huge hangars are on display.
Stroll Through Glorious Gardens
One place in Normandy that you will want to go if you are anywhere near Paris is Giverny. Impressionist painter Claude Monet chose Vernon, a small village in the country outside of Paris, as his residence in 1883. Here at his home, Giverny, the gardens would become the subject of many of his great works. And you can visit these gardens today, planting yourself in essence in the middle of a Monet masterpiece.
Your visit will include three parts of Monet's home: the gardens, the water garden and lily pond, and the home.
Read more about Claude Monet and Giverny.
All of these are good reasons to spend time in Normandy. And there are certainly many more. Have you been to Normandy?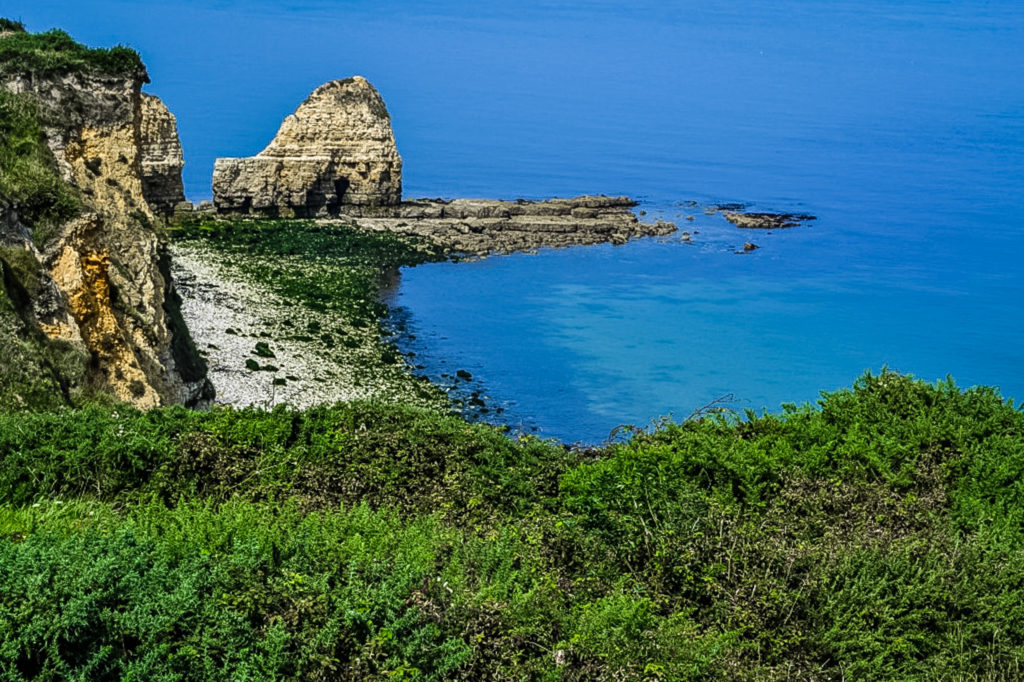 Read more about what it's like to visit the D-Day beaches in an article I wrote for Travel Awaits.
Guides to help you plan your trip:

Learn More About D-Day
I can personally recommend these books! (Except for the Normandy Travel Diary for Kids — I haven't read this one, but it looks like a winner if you are traveling with kids!)

This post contains affiliate links. Clicking on them may result in a commission being paid if you purchase afterwards. This is at no extra cost to you. All opinions are always my own.
PIN IT FOR LATER!!!