This year marks the 76th anniversary of D-Day in Normandy, France. It's a fitting time to remember what took place here. Omaha Beach is well known to those in the U.S. (especially), but the events of D-Day covered a much larger area of coastline.
An Overview of Operation Overlord
On June 6, 1944, the Allies landed along 60 miles of beaches to set in motion the liberation of Europe from the Nazis. There were five separate landings to Operation Overlord by American, British, and Canadian troops involving 160,000 soldiers. Code names for the 5 beaches are Utah, Omaha, Gold, Juno, and Sword. Here's a map from HistoryExtra.com to give you a good idea of the beaches.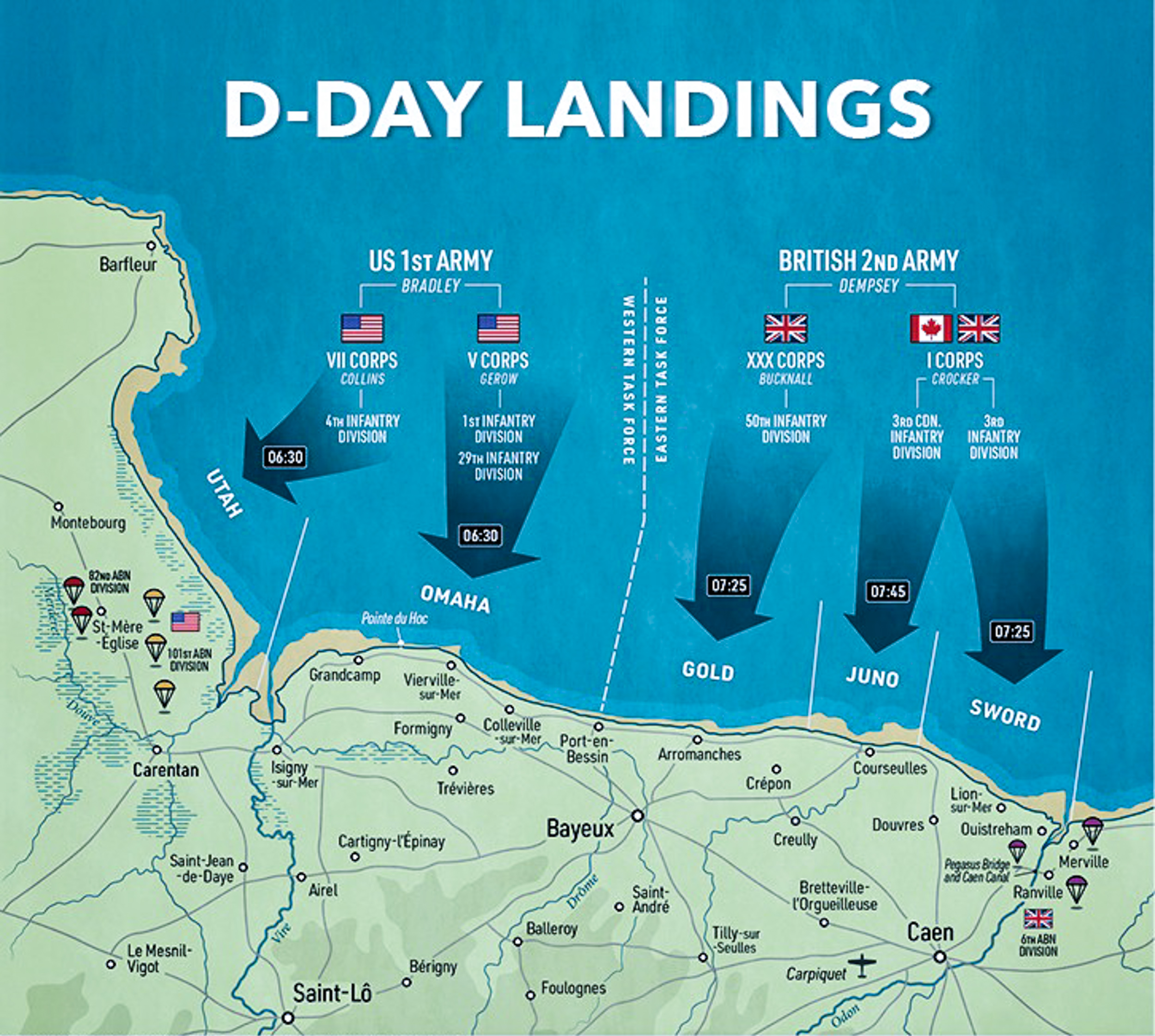 I was able to travel to France on an amazing trip to visit all 5 of the beaches in 2019. For a history buff like me, this was an unforgettable experience. I would like to share with you about all 5 beaches, starting with Omaha.
Omaha Beach — The Most Difficult Beach
Historians agree that the landing on the stretch of about 5 miles that is Omaha Beach was the most difficult of a day of unimaginable difficulties. Why? This beach turned out to have the largest number of German troops. Allied bombing runs failed to take out German strong points. The beach was riddled with mines and obstacles. Also, stormy weather and navigation issues led to men drowning before they could even reach the beach.
Those who gained the beach faced a fortified sea wall and high bluffs from where German artillery rained down on them.
The battle on Omaha was so severe that U.S. Lieutenant General Omar Bradley considered retreat back to England. But slowly and steadily men clawed through the sand and sprinted and ran into enemy fire, making it to the refuge of the seawall. By the end of this Day of Days, the Americans claimed a toehold of about 1.5 miles of France.
The Military Cemetery at Colleville-sur-Mer

The focus of a visit to Omaha Beach today is the peaceful cemetery that is the final resting place of almost 10,000 American soldiers who gave their lives in the battle for Normandy. Overlooking the beach, the rows of graves attest to the price paid for liberation in one small corner of the world. It's overwhelming to walk here.
The sea of white crosses and stars extends every direction. It's hard to look around at such loss of life. When you think how many of these lads were teenagers, transported across the English Channel in a rocky vessel, landing in a country where they had never set foot, and then their lives were cut short – it's too much to comprehend.
A look at the names — so many names — makes your experience here more personal.
The Flag Ceremony and Reflecting Pool
At the end of each day, the American flag flying here is lowered in a respectful ceremony. A reflecting pool is nearby.
You will notice a tall, dark sculpture called "Spirit of American Youth Rising from the Waves." Also in this area are large maps of the battles of World War II.
Musée Mémorial d'Omaha Beach
A small, excellent museum is next to the cemetery. It offers displays of uniforms, military vehicles, and even objects of civilians caught in the battles. I found the teddy bear especially poignant.
There are also examples of the metal objects strewn on the beach by the Germans and known as "Rommel's asparagus."
I would allow about an hour to take in this museum. If your time is limited, see the outside cemetery and beach first. If time allows, end your visit at the museum.
The Monument of the Brave

At the far west end of Omaha Beach, in Vierville-sur-Mer, you'll find an imposing sculpture called The Brave. The artist, Anilore Banon, said he created this to honor the courage of the men – sons, husbands, and fathers – who faced danger and often sacrificed themselves in the hope of freeing the French people. These "wings of hope" remind us all to stand strong for freedom and to speak up against all forms of inhumanity.
When You Visit
If you go to Normandy, you can walk on these beaches and try to imagine the events of June 1944. You can feel the sand between your toes, the waves lap at your feet. Around you, children will be playing, families will be out for a stroll, enjoying the sun and the sea. We are all living a life of freedom now, and it's only right to remember those who gave their last full measure of devotion to make this possible.
Learn More About D-Day
I can personally recommend these books! (Except for the Normandy Travel Diary for Kids — I haven't read this one, but it looks like a winner if you are traveling with kids!)

Guides to Help You Plan Your Trip
This post contains affiliate links. Clicking on them may result in a commission being paid if you purchase afterwards. This is at no extra cost to you. All opinions are always my own.
PIN IT FOR LATER!!!