Bayeux is an ancient town near the channel coast of Normandy, and it's just a 2.5-hour train ride from Paris. You can zip here for a couple of days for a change from big city life. It's the unlikely home of a UNESCO artwork. And it's the perfect base for a tour of the D-Day beaches. Bayeux has so much to recommend it.  Here are 6 reasons you will enjoy a visit to Bayeux.
This post contains affiliate links. Clicking on them may result in a commission being paid if you purchase afterwards. This is at no extra cost to you. All opinions are always my own.
The Old Town
Bayeux is amazingly well preserved. With its narrow, winding lanes and medieval architecture, you can imagine life here as it was centuries ago. The River Aure flows along, adding beauty to Bayeux.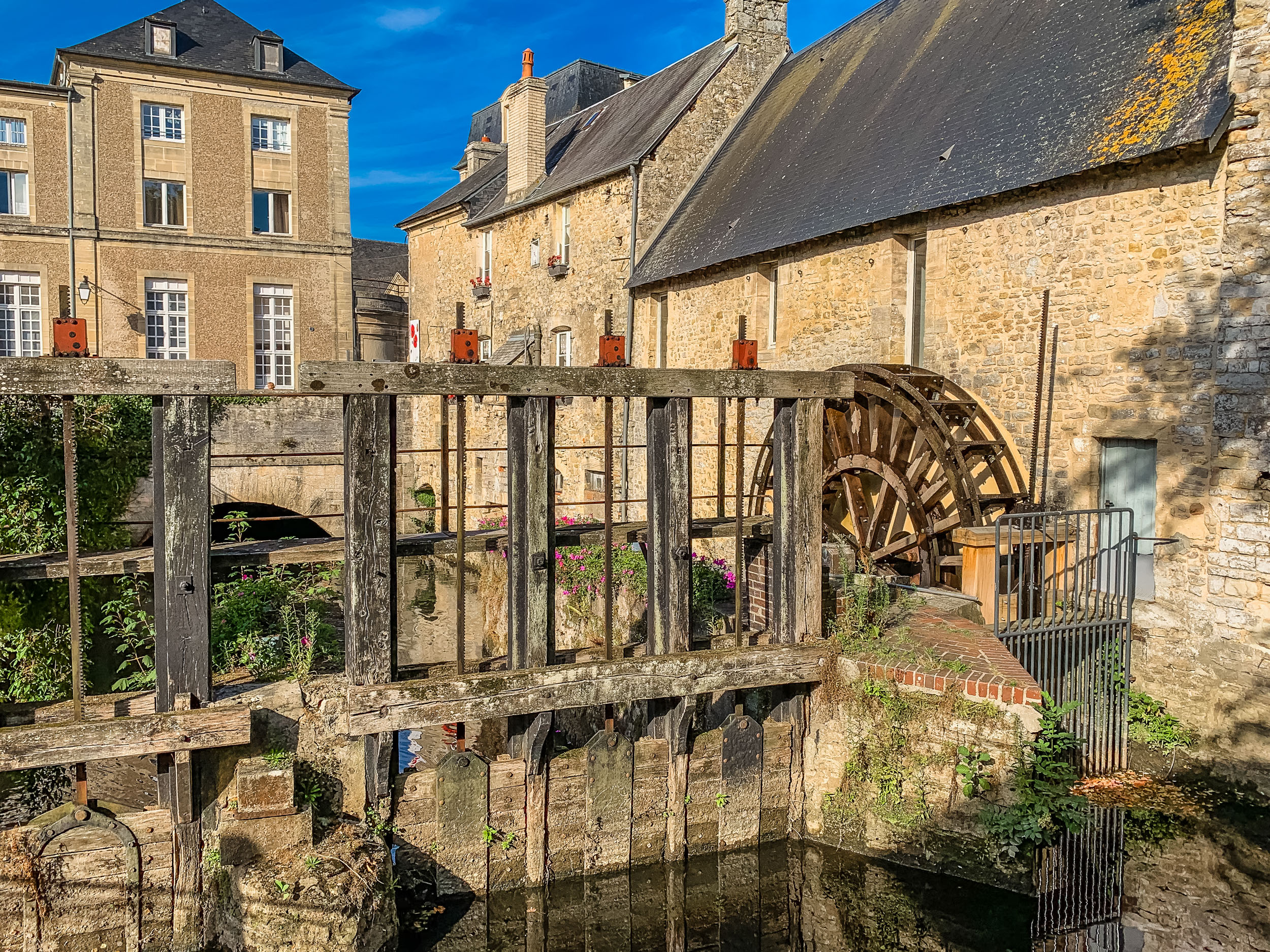 The survival of Bayeux is miraculous in part because Bayeux is just 6 miles from the D-Day landing beaches. Bombs devastated towns all around Normandy, but somehow this gem survived. Our tour guide told us a story about a priest from Bayeux hastening to meet with the Allies on the evening of June 6, 1944. The soldiers, having gained about a mile of the shore, recuperated as darkness fell, but they would be pressing inland the next day. The priest knew Bayeux lay in their path and that the plan would be to bomb and destroy his beloved city. He urgently informed the Allies that the Germans had quietly left Bayeux, so there was no need to bombard it. That was true, he was believed, and the next day Bayeux, unharmed by battle, became the first French town to be liberated. Today you can enjoy the steepled skyline, waterwheels on the River Aure, and stone buildings hundreds of years old.
The half-timbered style of buildings that I love can be found here, too. This was across the street from our hotel. 
Small and full of charm, Bayeux offers a relaxing and colorful place to enjoy life.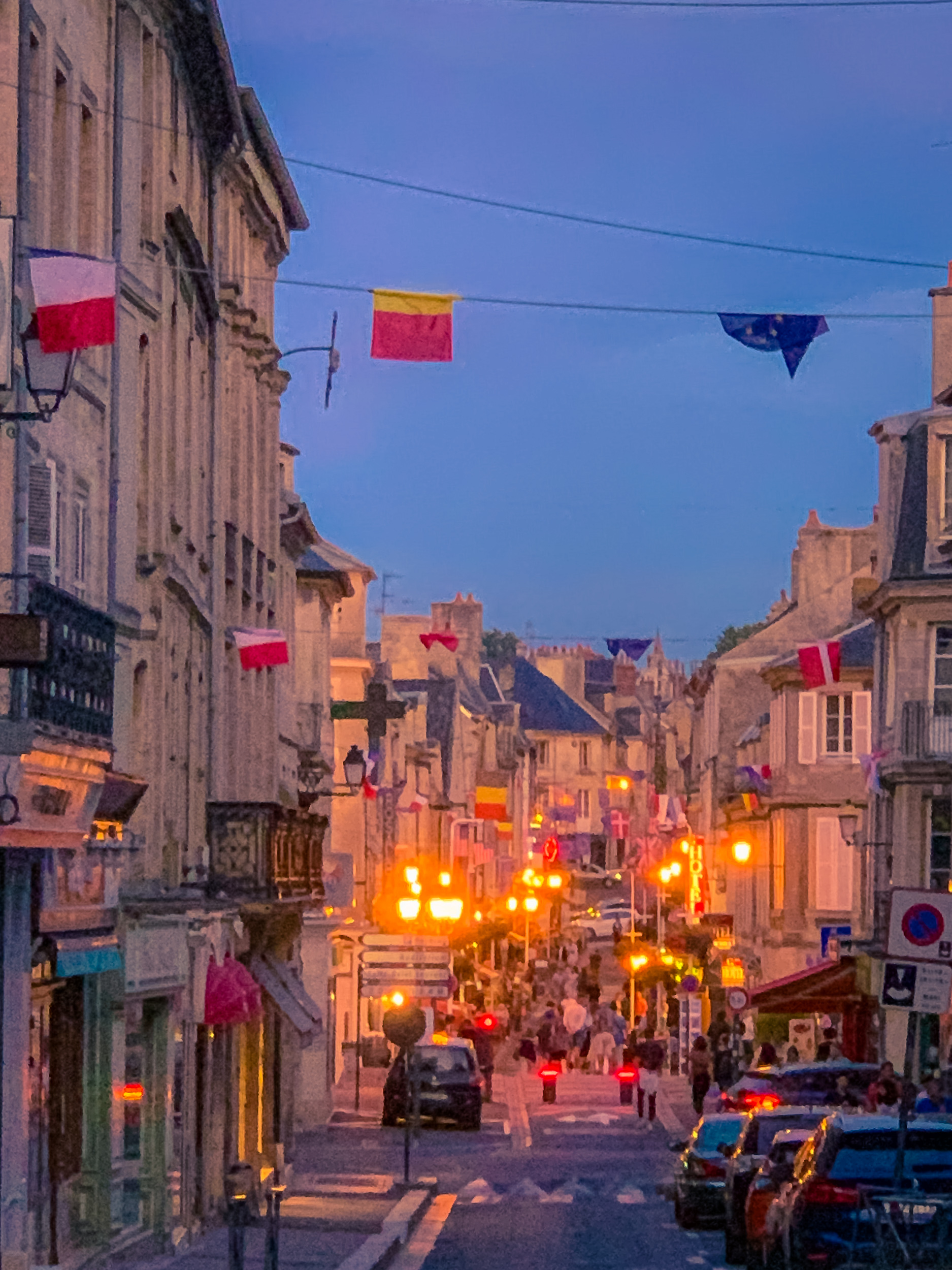 Cathedral Notre Dame
The towering cathedral that dominates the skyline of Bayeux dates to 1077. It was consecrated in the presence of William, Duke of Normandy, King of England. Built in the Norman-Romanesque style it was damaged and rebuilt with Gothic elements.
While the sight of this marvel is astounding,I was also taken with the beauty of the interior as well.
The stained glass seems especially rich in color.
I had been to Bayeux on other trips but didn't take the time to go in the cathedral. I'm glad I was able to see this lovely church this visit.
The Bayeux Tapestry
Listed as a World Heritage site by UNESCO, the Bayeux  Tapestry draws visitors from all over the world. It is an embroidered cloth almost 230 feet in length and 20 inches high. The intricate scenes depict events leading up to the Norman conquest of England by William, Duke of Normandy and ending with the Battle of Hastings. It is the largest and most well preserved artwork in this style from the Middle Ages. It's valued not only for its contribution to the story of the Norman invasion but also for showing aspects of medieval daily life and war. This was one artwork that Hitler wanted to claim for himself, but it was well hidden during World War II. The tapestry was on view in the cathedral for some time, but now it has its own place for display in the William the Conqueror Centre of Bayeux. Your ticket includes an audio guide in your language, and you move along the glassed-in tapestry as you hear the story it portrays. The price is 9 Euro for adults and 4 Euro for children.
Bayeux War Cemetery
The Bayeux War Cemetery is a large, beautiful cemetery for Commonwealth soldiers who died in France in World War II, mostly in this Normandy area. More than 4,000 men rest here, and you can visit and honor their memory.
Memorial Museum of the Battle of Normandy
This excellent museum is directly across the street from the cemetery. It presents in chronological order the events of the battle for Normandy, starting with the D-Day landings and continuing on through that summer of 1944.
You'll find quite a collection of tanks and other vehicles, and numerous displays of items from World War II both inside and outdoors.
I noticed that families were here with their children. I love knowing that these young ones are learning history.
At the same time, I noticed several photos from the liberation of Normandy that featured children and their parents. It's a reminder that the war affected not just the soldiers but so many civilians caught in the sweep of the war. The interactions of the liberators with the little ones is especially touching.
The Normandy Cuisine
The Normandy countryside is host to farms and meadows filled with cows, so fresh produce and dairy foods are as good as you'll enjoy anywhere. Cheeses are a specialty. And then there's fresh fish. I'm a picky eater, but I could live in Normandy and never run out of delightful things to eat. We found this sidewalk cafe a block from our hotel and ended up here for breakfast all 5 mornings.
For dinner, I can recommend Le Marsala (17 rue Cuisiniers), especially for the vegetarian lasagne and pizza. Yes, we ate here 3 times! We also enjoyed Restaurant Le Table dy Terrior (42 Rue Saint-Jean), where they served this delicious seafood dish. 
And you can always visit a boulangerie and pick up a fresh baguette, some cheese and fruit, and venture off for the day with your picnic lunch. All our meals were winners in Bayeux.
More Information about Bayeux and Normandy
A Bonus for the 75th Anniversary of D-Day: World War II Era Paintings
These delightful paintings of life during World War II can be found on windows all over the Old Town. I don't know if they will be kept after 2019, but discovering these is certainly a fun bonus to your visit this year. Here's a sampling of some of my favorites.
So there you have just a few reasons to visit the lovely old city of Bayeux!
Practical Information
Where to Stay
Bayeux has a limited number of hotels. You'll also find bed and breakfasts in the countryside. We opted for an apartment this trip, as we were there for 6 nights. My favorite hotel is The Churchill, on the main street in the heart of the city. You'll be able to walk anywhere in town from here. The breakfast in the sunny day room is a big plus, too.
Bayeux Tapestry Museum
The museum is open 7 days a week from 9:00 to 6:30. It is 9.5 Euro for adults, 5 Euro for children; under age 10 free.
Museum of the Battle of Normandy
This museum is open from 10 to 6 (closes for lunch). The cost is 7.5 Euro.
For More Information about Lovely Normandy
PIN IT FOR LATER!!!