Honfleur, a charming French town, sits where the Seine River flows into the English Channel, in the northern part of Normandy. Founded by Vikings in the 800s, Honfleur has served for centuries as a port for trade and travel. At its heyday in the 1600s, Honfleur enjoyed a brisk business with Canada (Eh? This surprised me). Then the city across the Seine, Le Havre, grew and replaced Honfleur as the major port here. As trade fell off, Honfleur attracted artists including Claude Monet and his teacher, Eugene Boudin. Today Honfleur has a working harbor, but its big draw is as a tourist destination. Honfleur proved just as delightful as I expected.
The Old Harbor
The harbor front is lined with sidewalk cafes. The jumble of bright-colored umbrellas gives the waterfront such a festive look.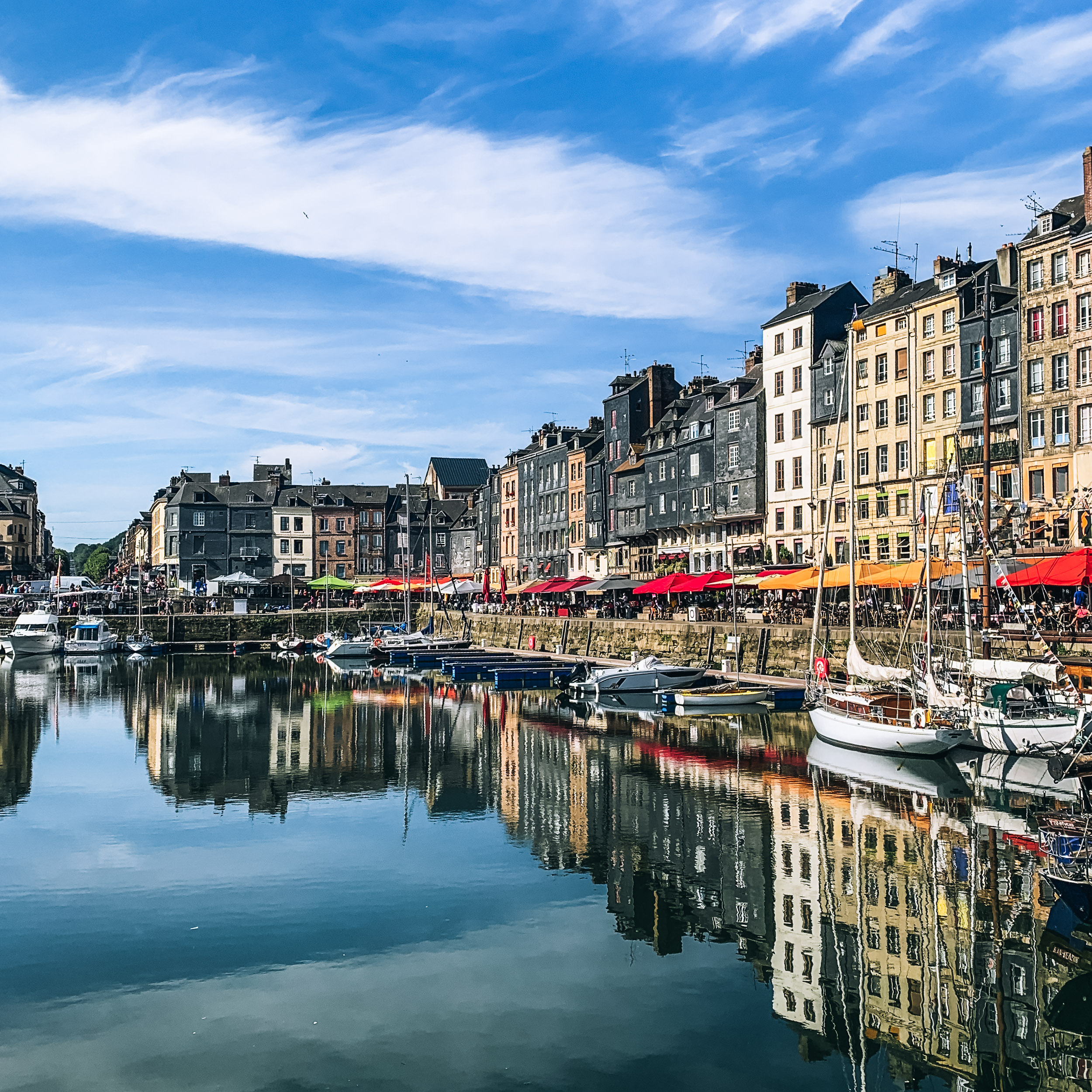 Saint-Catherine's Church dates to the 15th century. It's noteworthy that the church was built by the famous "axe masters" of the naval yards of Honfleur without using any saws. This style of construction can be traced back to the Vikings.
The Historic Quarter
Honfleur not only has a lovely harbor but it also offers winding cobblestone lanes full of homes and shops, some as old as 1000 years. One reason the town is so well preserved is that it was not the focus of destruction in World War II. Its sister city across the water, Le Havre, was the port used by the Germans and then by the Allies. Sadly, Le Havre was 95 percent destroyed in the war, suffering damage from both the Germans and the Allies. Honfleur survived.
This picturesque port has attracted not only painters like Monet but also musicians. Erik Satie resided here for years.
If you're a fan of colorful front doors, Honfleur does not disappoint.
This one puzzles me. I'm not sure what's happening here . . .
You'll find shops with a variety of treasures. Several places sell local carmels, and they melt in your mouth. I took some home for my office mates and the candy disappeared so fast!
Planning Your Visit
You can see the harbor and the old town in a short time, or you can plan to spend the night and amble along the colorful lanes at leisure. We were heading on north, so we arrived in the morning and left before lunchtime. Even if you have limited time and are driving through Normandy, a stop in Honfleur is refreshing. I would love to return and enjoy a dinner on the harbor!


We stayed in Bayeux during our time in Normandy, which I recommend as the perfect base for day trips. Honfleur is about an hour's drive north of Bayeux. Unless you get lost. We have a talent for getting lost. But it was all good because the countryside of Normandy is lovely, with fields of green and Norman cows and tiny villages. And eventually we found Honfleur!
How about you? Do you have a favorite harbor city?
For More Information about Lovely Normandy

This post contains affiliate links. Clicking on them may result in a commission being paid if you purchase afterwards. This is at no extra cost to you. All opinions are always my own.
PIN IT FOR LATER!