I'm pleased to share with you this Guest Post by Lorelei from California Globetrotter.
So many of us are enchanted by fairy tales of a damsel in distress and a heroic prince coming to the rescue and the two living happily ever after in that classic romance story that could only have ever been written by Walt Disney.
But, what if some of those stories were true and such a fairy tale DID exist? Would you believe me if I said such a place, fit for The Beauty and the Beast, were real?
Tucked away in the Gesäuse National Park in the Stryia region in the small Austrian town of Admont, is a monastery that has been home to Benedictine monks for over 900 years. But this isn't just any ol' cold and dreary monastery. Home to "The World's Largest Monastic Library," this magnificent library is what dreams are made of!
Like me, when you hear the word "library," you probably have high school flashbacks of endless hours at the school library with your nose pressed in a book and teachers hovering around you, making sure you're not goofing off. The library was nothing special, the chairs were hard, and there certainly wasn't any form of artistic inspiration. Yeah, those we're my first thoughts too, until I read an article somewhere about "The World's Most Beautiful Libraries." Suddenly the word "library" had a whole new meaning to me: beauty, artwork, history, philosophy, theology. I quickly became obsessed, and to this day, I still RAVE about the remarkable pastel cupola frescoes that left me speechless.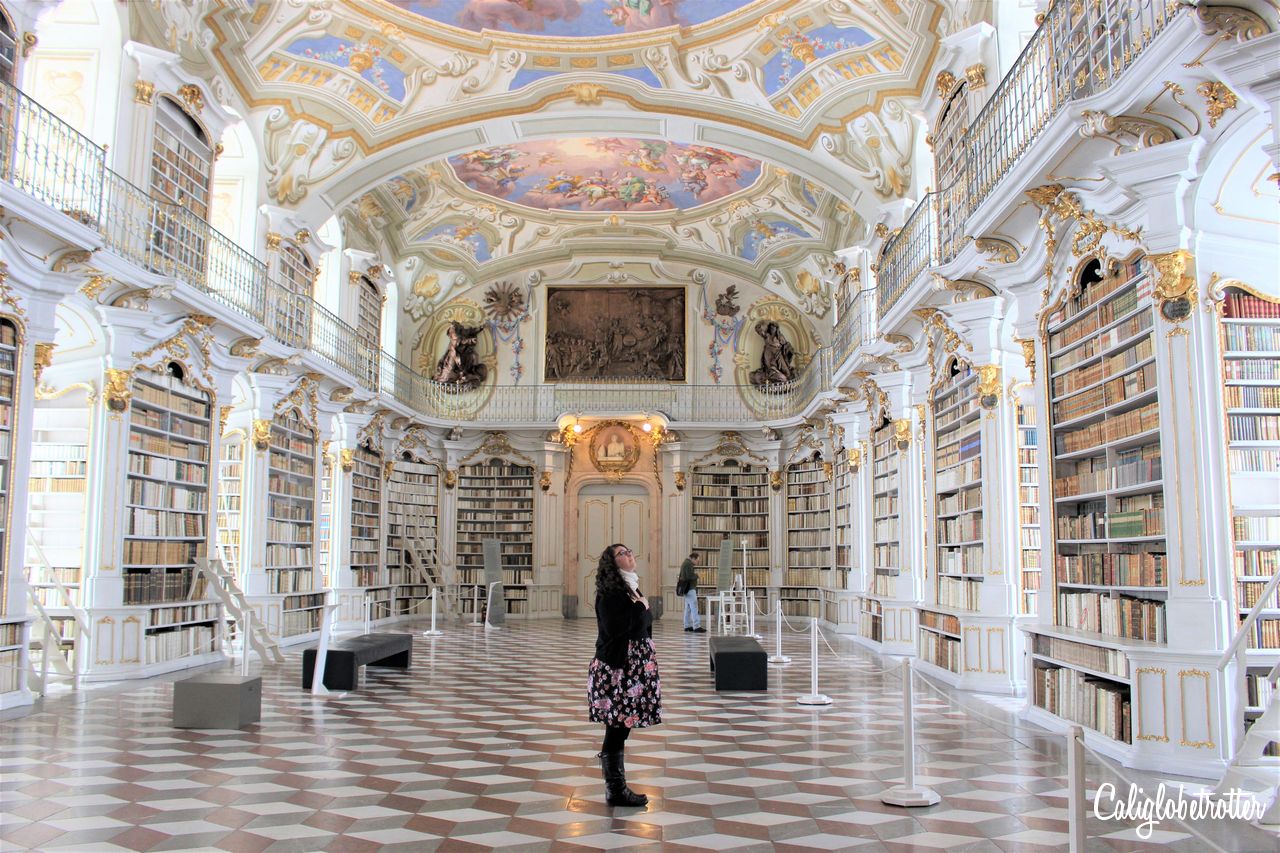 History of Admont Abbey
Founded in 1074 by Archbishop Gebhard of Salzburg, Admont Abbey quickly gained prominence as one of the most important monastic centers in Austria and what is now known as Southern Germany. Throughout the 17th and 18th centuries, the abbey excelled in artistic productivity and commissioned world famous sculptures and embroiderers to create works of art for the abbey, which can clearly be seen by the magnificence of the library.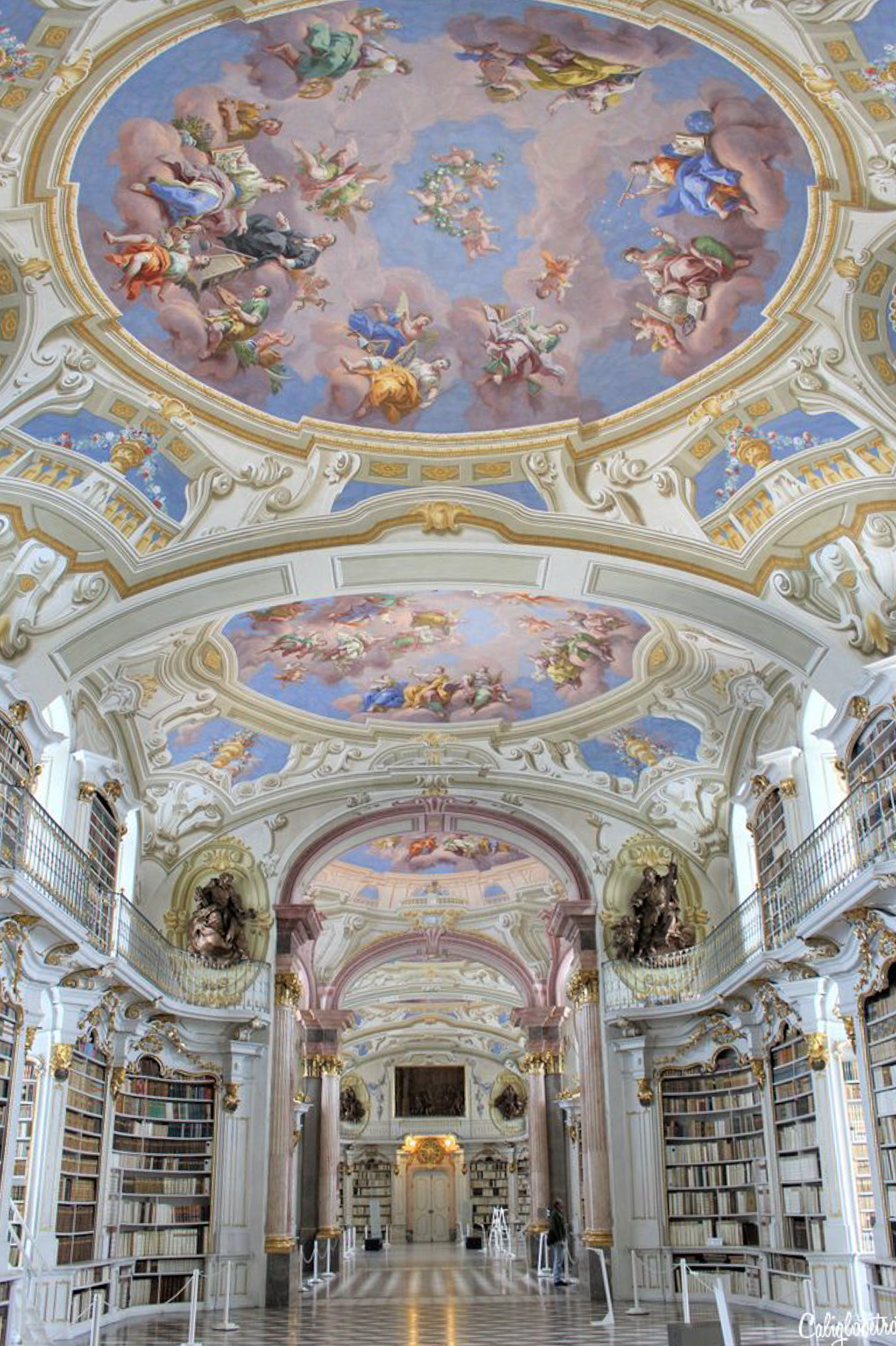 For a short period of time, the abbey struggled financially and in the 1930s had to sell off many of its precious treasures, only to later be evicted by Nazi Germany and the abbey dissolved. Fortunately, the monks were able to return in 1946 after the Nazi regime was defeated, and they resumed their daily activities.
About the monks
Twenty-six monks still call Admont home, and four times a day, the monks gather to celebrate the Liturgy of the Hours and Holy Mass. They pray for the alleviation of the world's problems at 6:15 a.m., 7:00 a.m., 12:15 p.m., and 5:45 p.m. They have been following the Rules of St. Benedict, which were first written in 529 in Monte Cassino, Italy, and their primary duty is to seek God together with the help of their fellow brothers by conversing, eating together, celebrating, and occasionally going on excursions to care for the elderly and sick.
Admont Abbey Library
Considered to be the world's largest monastic library, it was commissioned by Abbot Matthäus Offner and completed in 1776. It was quickly named the "Eighth World Wonder." Designed in the late Baroque style, the library expresses the ideals of the Enlightenment through a variety of artistic genres from architecture: cupola frescoes painted in pale pinks, blues, and golds; sculptures along the book shelves; and a massive quantity of manuscripts and printed works.
Before opening the door, my heart was pounding with excitement because you can only see something so many times in a picture before you just simply have to see it for yourself. I reached for the door handle and slowly opened it, savoring the moment, prolonging the awe, and taking in the soft, musty smell of old books.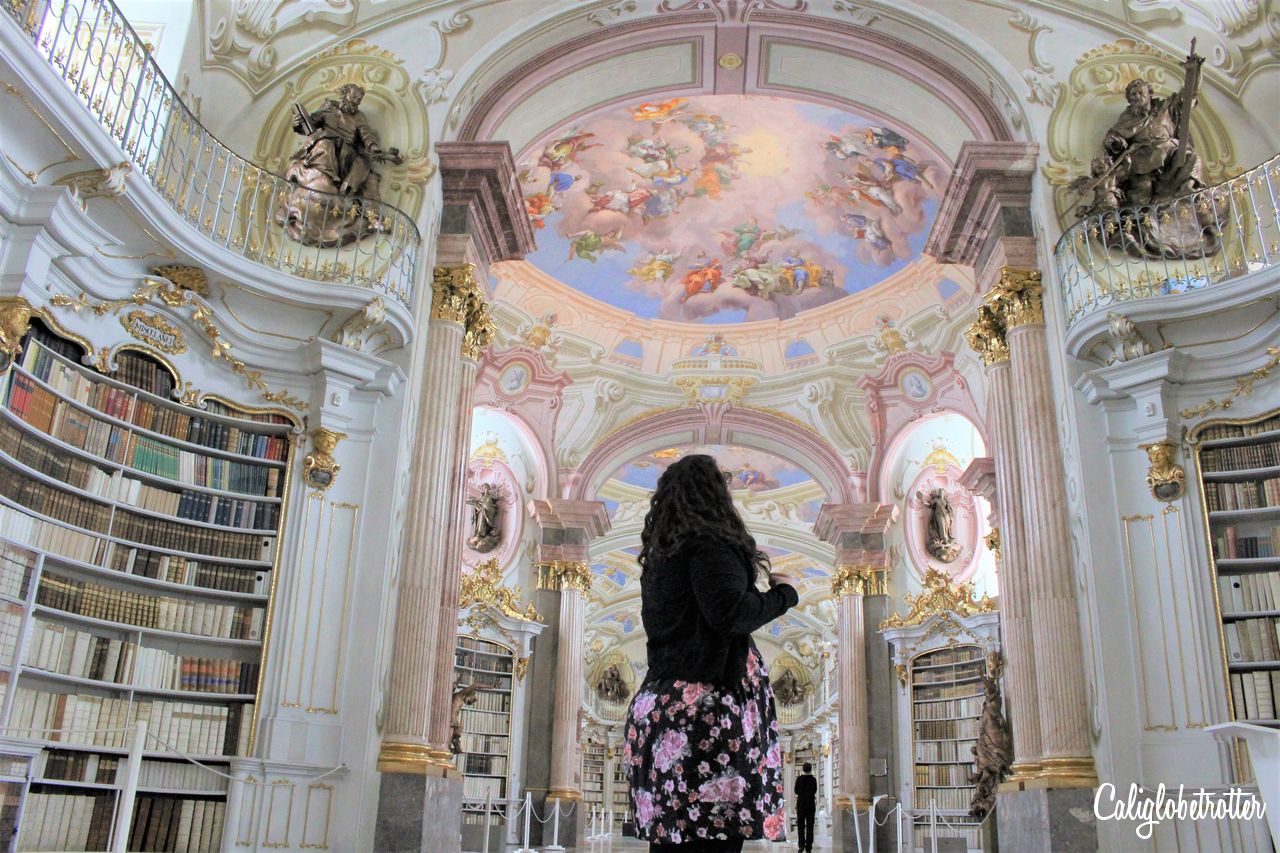 With three chambers, the library is breathlessly impressive. Centuries of studies have taken place here, allowing not only the minds of the monks to be filled with light but also their space in which to seek answers to the world's most difficult questions. The library is also physically dependent on the light that illuminates it through one of the 48 windows.
The library has seven ceiling frescoes, which are also infused with Enlightenment inspiration depicting various stages of human understanding, starting with thought and speech, through sciences and arts, and finally concluding in the largest cupola with Divine Revelation. Clearly, stepping into this room meant that all forms of thought and speech ceased to exist as I stood dumbfounded with awe and a crick in my neck.
Today, the library is open to visitors who wish to be blown away by the impressive details. As a visitor, the time quickly slipped away from me as we slowly took in every inch of the library. Every manuscript, every shelf, and every chamber left much to be admired. My first thought was "This must have been what Belle felt like when the Beast gifted her his library."
Over 70,000 volumes alone can be found in the library, which is only a little more than a third of the books that the Abbey possesses. Some of the most valuable include manuscripts dating back to the 8th century AD as well as books printed before 1500 as well as a variety of editions of the Bible.
In April 1865, the worst possible catastrophe that could have happened to the Abbey took place: fire. Sadly, a disastrous fire destroyed the Abbey church and structure as well as large portions of the town of Admont. Known as "The Great Fire of Admont," the fire claimed many precious monastic artifacts. Fortunately, the library and its books were spared, as if by the will of God. The following year reconstruction began on the Abbey but was not completed until 1890.
Visiting the Abbey
Just a 2-1/2-hour drive from Vienna or a 2-hour drive from Salzburg, Admont Abbey is a great day trip and is definitely worth the effort! Austria's monasteries, including Melk Abbey, certainly know how to leave people in absolute amazement with their elaborately crafted churches and libraries.
As the abbey is also home to a total of 4 museums, ticket prices vary. A visit to the library can be seen with a guided tour or privately and opening times also vary depending on the season.
Lorelei is an American expat who moved to Germany in 2012 and is the author of California Globetrotter. Since then, she has had an unwritten rule with her husband that they need to go on a day trip or weekend trip at least once a month to Europe's most Disney-esque towns and best kept secrets! She has a serious addiction to adorable half-timbered towns and castles beyond the typical touristy destinations. To discover more charming, wanderlusty towns, you can follow her on Facebook, Instagram or Pinterest! 
PIN IT FOR LATER!