New York's Central Park is world renowned as a green, relaxing oasis found amid the bustling city of high rises. Central Park provides a place for New Yorkers – and visitors to the city – to go to enjoy nature. Its lawns, lakes, flowers, and leafy trees whisk you away from the sidewalks of New York to a fairy tale land. And it's especially enchanting in the spring, when flowers bloom and the lawns come back to signal new life. Here are a few of my favorites in Central Park.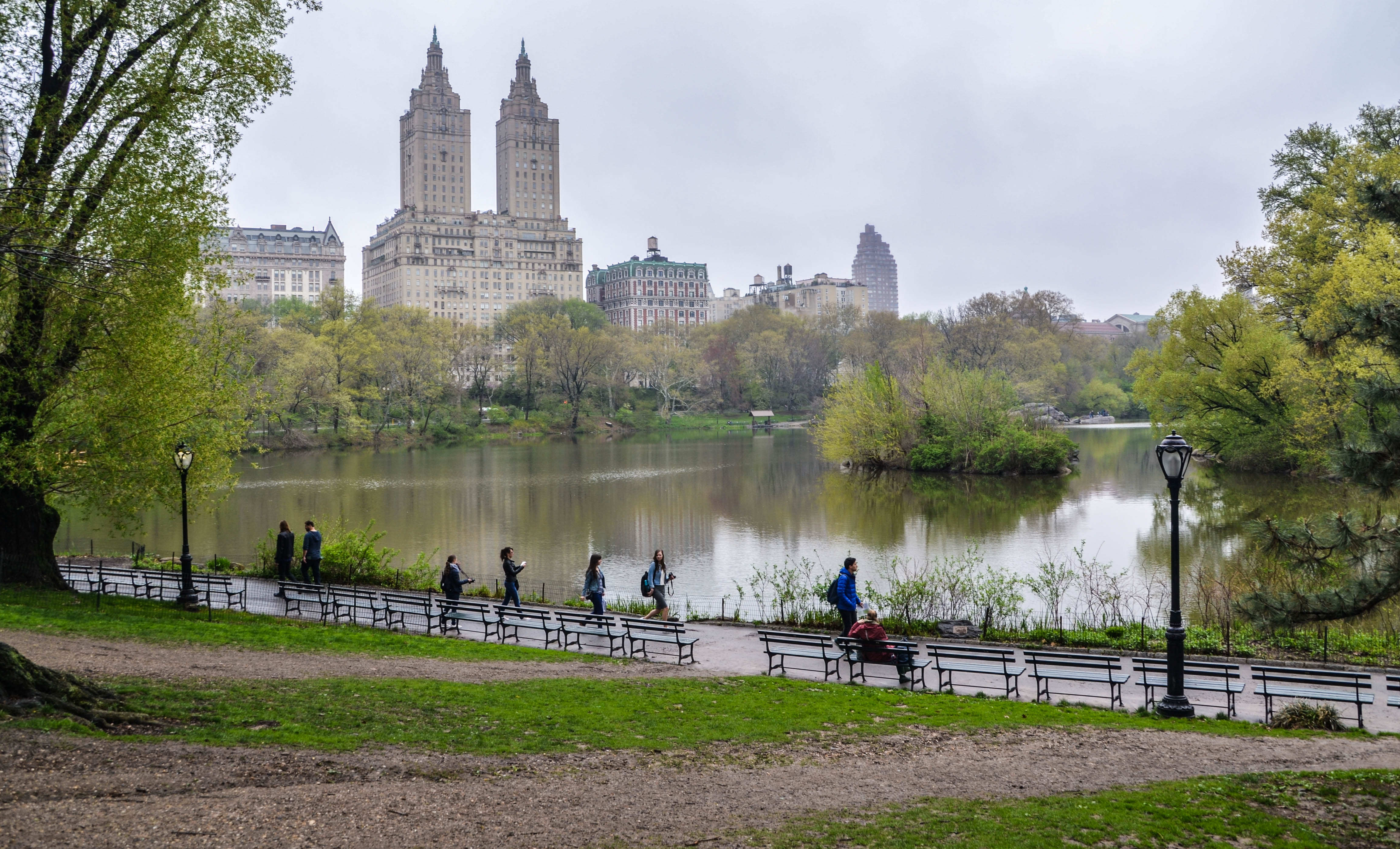 The John Lennon Memorial
We scored an Airbnb apartment a half block from Central Park. So every day we wandered through parts of Central Park and took in the springtime color and newness. We were by the entrance known as Strawberry Fields, where you'll find the John Lennon memorial. John and Yoko Ono lived adjacent to this area in The Dakota Apartments. People decorate the memorial, then it's cleaned each evening so new flowers can be left the next day.
The Lake
The park is bordered on all sides by the city. Reflections on the water of the The Lake (that's really the official name) show just how close you are to civilization.
Locals and Their Pups
One morning I got up at sunrise and strolled along with locals who were out running, walking to catch public transportation to work, chatting with friends, and exercising their dogs. I wasn't sure of the protocol, but I did talk with some of the dog owners and meet their pooches. My favorite was sweet Lilly, who loves chin rubs, in case you ever run across her in the park.
So Many Lovely Blooms
Pink blossoms are everywhere. They compliment the bright green grass. These trees were bare just a few short weeks earlier. It's really quite a miracle.
Shakespeare Garden
Tulips bloom in Central Park's Shakespeare Garden in early spring. 
The Mall
The Central Park Mall is one wide avenue through the middle of park. And it's lined with imposing sculptures of literary figures and statesmen. The Mall runs from 66th to 73rd Streets inside the park.
And there's Balto! He, along with Togo and other dogs, pulled sleds through harrowing conditions in snowy Alaska in 1925. The team risked their lives and successfully delivered diphtheria medicine to isolated ill children.
The Bethesda Fountain
Near the Central Park Mall is the well known Bethesda Fountain, also called Angel of the Waters. It's worth a slight detour to find the fountain.
Tavern on the Green
One evening we happened on the iconic Tavern on the Green. I never thought we would be able to dine there (expensive, probably needing a reservation), but we checked and got right in. The food is fabulous, the wine delicate, the chocolate bombe dessert a masterpiece. And the price tag was reasonable. Our dinner here was a highlight of our trip.
Bow Bridge
In our crisscrossing of Central Park, we still covered only a small part. Built in the 1850s, the park today covers about 840 acres. Through the decades, it slipped into disrepair, but it has been rescued and updated. Today it is maintained by the Central Park Conservancy, a non-profit that offers tours and runs information kiosks. We learned that the elegant Bow Bridge was built before the Civil War and then was refurbished not long ago.
How to Find Your Way Around Central Park
Pick up a map or bring up an online map on your phone to help you navigate. When the trees are leafy, it's difficult to see too far in any direction. You can just wander if you like, but if you're trying to find something in the park, a map will help. Then you can and head toward The Lake, Shakespeare Garden, or The Metropolitan Museum of Art, on the east side. So many areas of the park are waiting to be explored!
These guides will help you plan a trip to fabulous New York City!
Central Park is a treat in any season, but it seems to me that Spring must be the most beautiful.

How about you? Have you been to Central Park in New York? Do you have a favorite city park?
READ MORE ABOUT NEW YORK CITY
This post contains affiliate links. Clicking on them may result in a commission being paid if you purchase afterwards. This is at no extra cost to you. All opinions are always my own.
PIN IT FOR LATER!