Road trips are a way to have lots of fun and enjoy new discoveries from the comfort of your car. How I love to zip along through wide open spaces, perhaps with a view framed by majestic mountains. And when you're planning, you'll want to think carefully about what to pack for a road trip. You'll want to include what you need to keep you safe, healthy, well fed, and entertained along the way. If you plan well, you'll sail along the highway on a memorable, fun adventure.
After a couple of recent fabulous road trips, I've come up with a road trip packing list. While many of these items went along with us, we forgot others or wished we had brought something we didn't have. If you are in a city, you likely can pick up what you need. But what about those times when you are on a highway that traverses miles of desert with no rest stops on the horizon? Or you stop for a picnic lunch that was packed with care, but you forgot the napkins and paper plates? Just me? Probably not!
This list is basically for road trips when you're driving into towns or cities or staying with friends or relatives for the night. If you're camping, you'll want to add all the camping gear, too.
So, gather up these items and pack your car. Get ready for your exciting journey. My pup Bailey loves road trips and hopes you do too!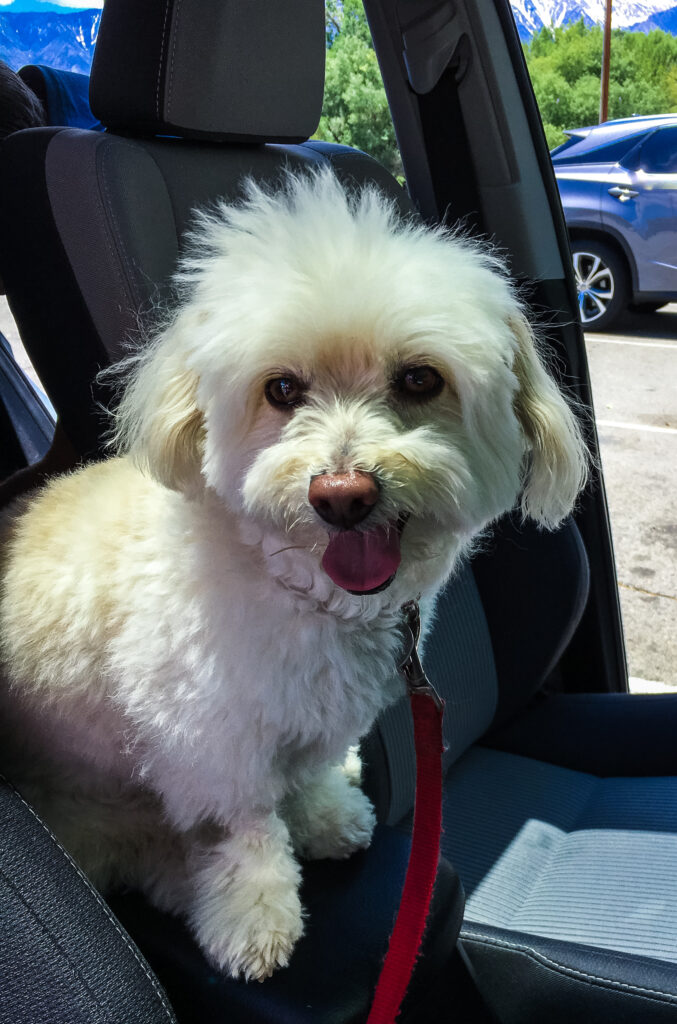 ROAD TRIP PACKING LIST
Most packing lists begin with road trip packing essentials. Before I get to the nitty-gritty of what to pack for a road trip, why not start with a section on road trip fun?
FUN
The point of a road trip is to have fun along the way to wherever you are headed. Consider these items to keep you entertained.
Playlists
Before you leave home, download playlists for offline. Use Spotify or Amazon Music. You can choose a variety of your favorite music. Also make a playlist of soothing music to help you drift into a nap. Soundtracks to TV shows or movies work well for this. The music of Poldark has helped me nod off.
Favorite podcast episodes can also enhance the journey. And audio books are perfect for long drives.
Earphones / headphones
Your fellow car trippers may want quiet, or they may prefer different music or podcasts. Take along your ear buds or headphones. I saved gift money for these headphones and I use them often.
Here are some less pricey options that may serve you well.

Games
Road trippers have played games like I Spy probably since the invention of the automobile. The spy choose something that will be in view for a while, maybe something inside the car. Then the spy says, "I spy with my little eye something that starts with the letter A." (Or any letter) The others guess by asking questions answered with yes or no.
If your trip is long and you want variety, stock up on some games before you go. Mad libs (who says they are just for kids?!) and card games are naturals. A deck of cards and games such as Uno will also be great when you stop for the night.
And of course, there's the License Plate Game, which I remember playing as a young child. This would work especially well if you are traveling across the country.
PERSONAL COMFORT
Not only do you want to have fun on your road trip, but you'll also want to be comfortable as the miles zip by. A few road trip essentials for comfort are:
A car blanket
Chapstick
This is the one I always carry with me — everywhere.

Moisturizer
Hand cream
Slippers
I love Snoozies brand for home and on trips.

Flip flops for quick trips to the restroom in a park or rest area
Okay, now to the road trip essentials!
BAGS
Backpack
Besides suitcases, a day backpack may be best for exploring the areas you visit. I use the small Everest pack for day trips and the larger Eddie Bauer pack if I need to carry more or want to take a lunch along.

Shoulder purse
I always throw in a small crossbody purse so I can walk to a hotel lobby or go out to a café for breakfast without taking my backpack. This one fits my phone and a few other items. I use this literally every day, whether I'm home or travelling.
Hanging toiletries bag
This is the one I use. I take it on every trip. A hotel bathroom may be lacking on counter space, but I'm always prepared with this convenient bag. And it holds a lot.

SAFETY
Car manual
Be sure this is tucked in the glove compartment. Have you ever had an odd light stuck on or a dashboard symbol you don't understand? Manual to the rescue.
Copy of insurance information
This is a necessity, of course. Double check that it's in your glove box.
Flashlight
I am married to a man who is a boy scout at heart. From our earliest trips, he has always packed flashlights. We've navigated a power outage in a hotel with my elderly mother and nighttime walks outside a hotel with our pup. Take more than one to be really safe.
KEEPING CLEAN AND HEALTHY
Hand sanitizer and wipes
Keep a bottle of sanitizer in the car, another in your backpack or purse, and one in your luggage for the hotel. Wipes are handy not only to sanitize objects but also to clean your hands if they get sticky from food and all kinds of situations. If you have a lunch cooler, pack some wipes in it. Did you know that packaged cups of yogurt expand in altitude and can explode on the picnic table?
First aid kit
You can buy one for your car or put together your own. Basics are bandages of different sizes, wipes, antiseptic ointment, and ibuprofen.
Bug spray
Depending on where you are going and stopping, you may be very glad you have bug spray. Ask me about the time I forgot it and suffered with 23 mosquito bites.
Motion sickness medication or wrist bands (or both)
I'm prone to motion sickness, so I wear the bands and also have medication. Let someone else drive if you take a medication that causes drowsiness. The bands work by putting gentle pressure on your pulse point in your wrist.

Meds for headaches (ibuprofen or acetaminophen) and diarrheal medication (Imodium)
If you pack these and never need them, you can be happy. But if traveler's tummy or an aching head strike, have these close by. You may not feel up to finding and going to a drug store in an unfamiliar place.
DOCUMENTS
Credit cards, debit cards, and cash
These are the basics to take, along with your driver's license, of course. I usually travel with two credit cards. I've had an ATM not work with one from time to time, so I recommend a backup. And although cash is not king anymore, it may be if your credit cards don't work for some reason. Take at least a bit of cash for emergencies.
TECHY ESSENTIALS
Prepared smartphone
You'll be using your phone for navigation and research along the way. Make sure you download all the apps you may want before you take off. At minimum, I would have a hotel app such as Booking.com and Hotels.com, Trip Advisor, and any map apps for your stopping places or destination.
Portable charger
A portable charger is a must. You may have long days of driving between stops. You don't have to worry about your phone running out of juice if you always pack one of these. Mine goes in my bag even on day trips around my hometown. This is the one I rely on.
E-reader
For reading, take along an iPad, Kindle, or other brand of e-reader. Stock up with books before you leave when you know you have reliable internet.
ALL the chargers
Pack all the chargers: phone, camera, iPad, portable charger. If you are traveling with others and you all have your techy things, you may want to get a wall charger with multiple USB outlets to use in a hotel or home.


Other handy techy items to pack are a waterproof phone case and extra batteries for items such as a Fit Bit or travel clock.
PICTURE FUN
If you have a camera, be sure you're prepared to take lots of memorable photos. Pack any lenses you may want to use. Also include the camera charger, a cleaning kit, and extra SD cards.
Tripods
A tripod is handy if you have room for it and think you will use it. You can get one for your phone, a small one for your camera, and perhaps a full-size travel tripod. I especially like Manfrotto brand tripods for my full-size camera.
SNACKS AND DRINKS
What's a road trip without yummy snacks to munch on and drinks to keep you hydrated?
Snacks
Take packable foods such as energy bars, cheese sticks, crackers, nuts, apples and bananas, cut-up veggies, and peanut butter sandwiches, For treats, you may want to take cookies or candy. Think about finger foods you can possibly eat while driving, as you may not want to stop every time hunger hits.
Drinks
A water bottle is a good alternative to buying plastic disposable water bottles. I like this style from Contigo.
Take refreshing drinks in addition to water. A flavored sparkling water or bottle of lemonade will perk up the afternoon on a long drive. I'm currently craving La Croix razz-cranberry flavor. Driving through the desert with temps of 106 degrees outside, even in an air-conditioned car I found a cold drink so welcome.
Coolers
You may pack several of these. You may prefer hard-sided or soft-sided. I usually travel with both. On my last trip, we filled at least a half dozen coolers full of food and drinks. Pack all the coolers with ice blocks. At least you'll keep foods cold until they warm up.

PAPER GOODS
When you consider what to pack for a road trip, paper or similar durable products are non-negotiable. Pack plenty of these.
Ziplock bags of different sizes
Paper towels
Tissues
Napkins
Paper or washable plates for roadside picnics
Utensils from your kitchen or plastic utensils. Bamboo reusable utensils are a good option, too.
CLOTHES
The clothes you pack will depend on the seasonal weather you expect, where you are going, and how long your trip will be.
In general, pack outfits that are comfortable for all-day sitting in the car. Add an extra pair of sneakers if you have them, so if your main pair get wet or muddy you have back-up.
USEFUL FOR SO MANY REASONS
Consider these items to make your life easier on a road trip.
Small scissors
Trash bags to keep the car tidy
Bath towels for clean-up
Umbrella
Binoculars
Camp chairs
And last but not least, camp chairs, for those times you want to pull off the road and eat lunch by the lake.

So, there you have my recommendations on what to pack for a road trip. Do you have items to add to this list?
Are you ready to plan a road trip? I'm dreaming of future trips right now!
This post contains affiliate links. Clicking on them may result in a commission being paid if you purchase afterwards. This is at no extra cost to you. All opinions are always my own.
DOWNLOAD THE ROAD TRIP PACKING LIST!!
PIN IT FOR LATER!!