Want to step out of the present and enter the world of Medieval Germany? Rothenburg ob der Tauber offers you the perfect opportunity. The old town of Rothenburg, with its half-timbered buildings set along a maze of cobblestone lanes, takes you back in time where you can imagine folks meeting at the bustling market square and then enjoying a stein of their favorite beer with friends. The stone wall around Rothenburg offers a fine way overview. Enter through one of the gates and climb into the wall. You can walk a section or two or all the way around.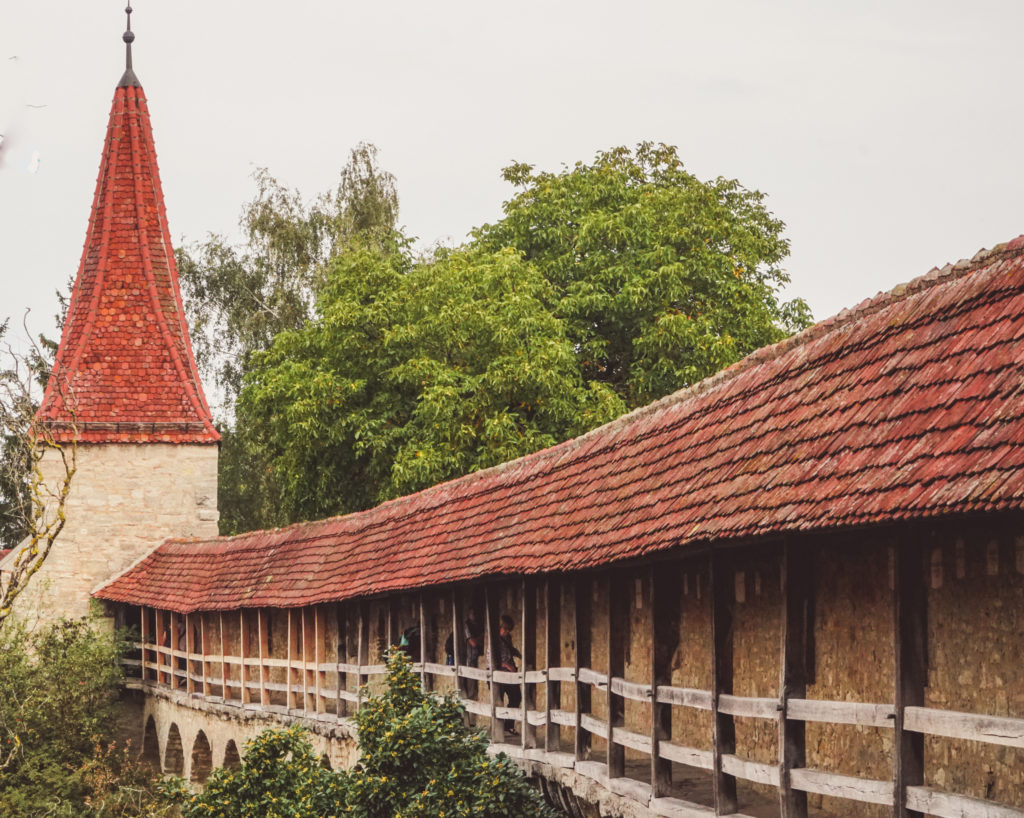 Dating to 1142, these walls of stone protected the young trading center here and a royal castle.  Rothenburg expanded to become the second largest city in Germany by 1400, partly due to its security within the wall. Walking the 2-mile-long wall today gives you a roof-level view of Rothenburg. You see the jumble of wooden gables and steeples that tower over the streets.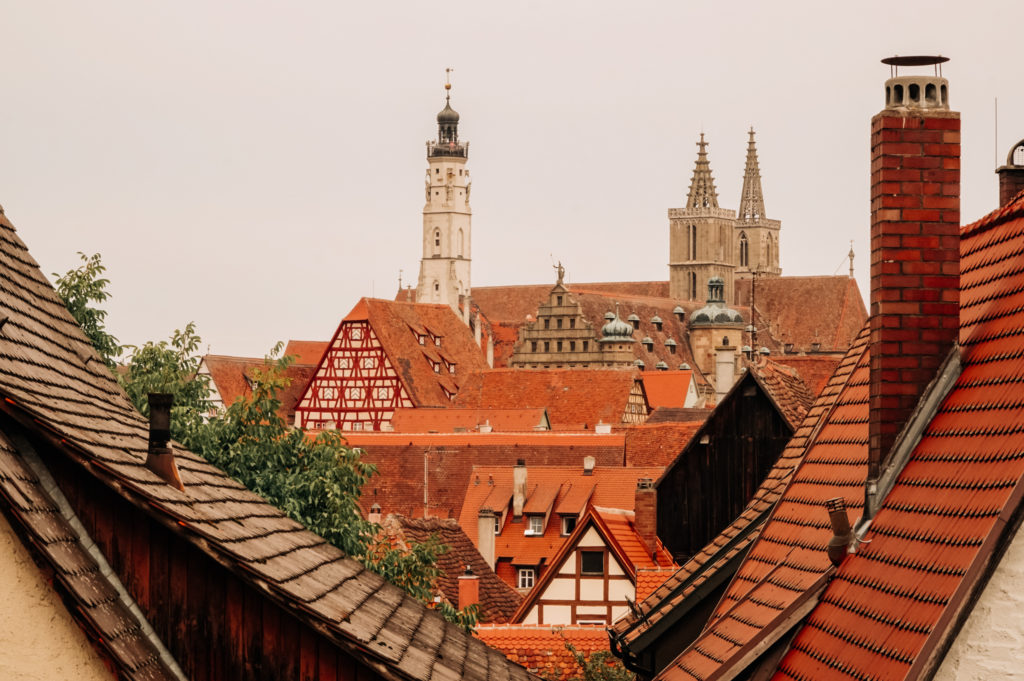 You can see beyond the town out to the surrounding farmland, too.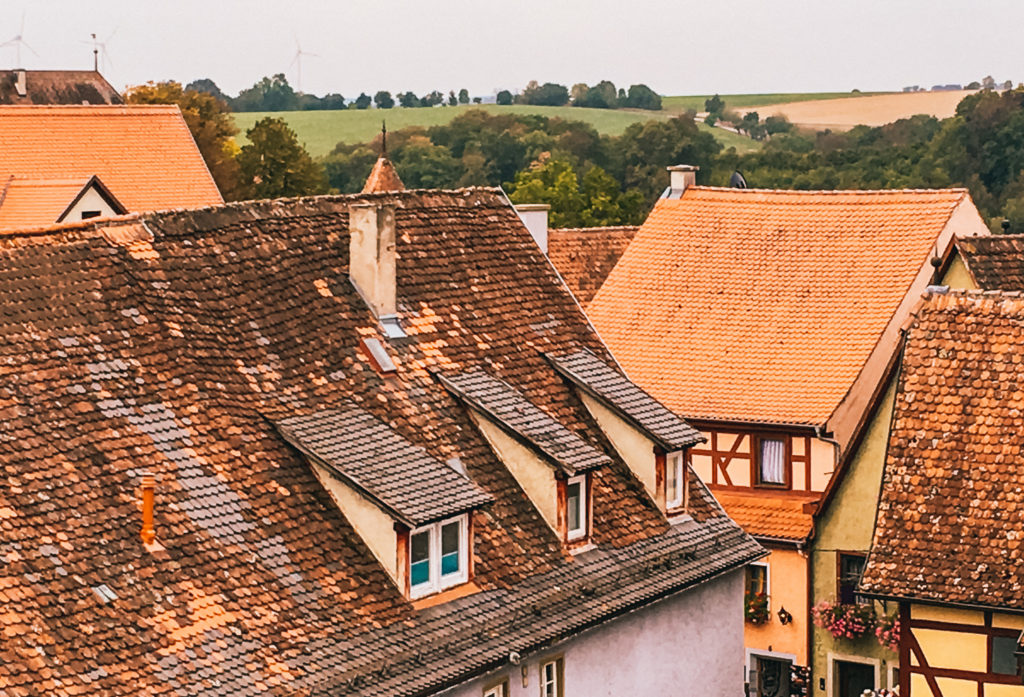 My favorite is the Blacksmith's shop. Built on a triangle corner lot in 1469, this home boasts a coat of arms made of blacksmith tools. A bomb caused a fire that damaged the shop during World War II, but after repairs, the blacksmith carried on. This charmer is now a private home.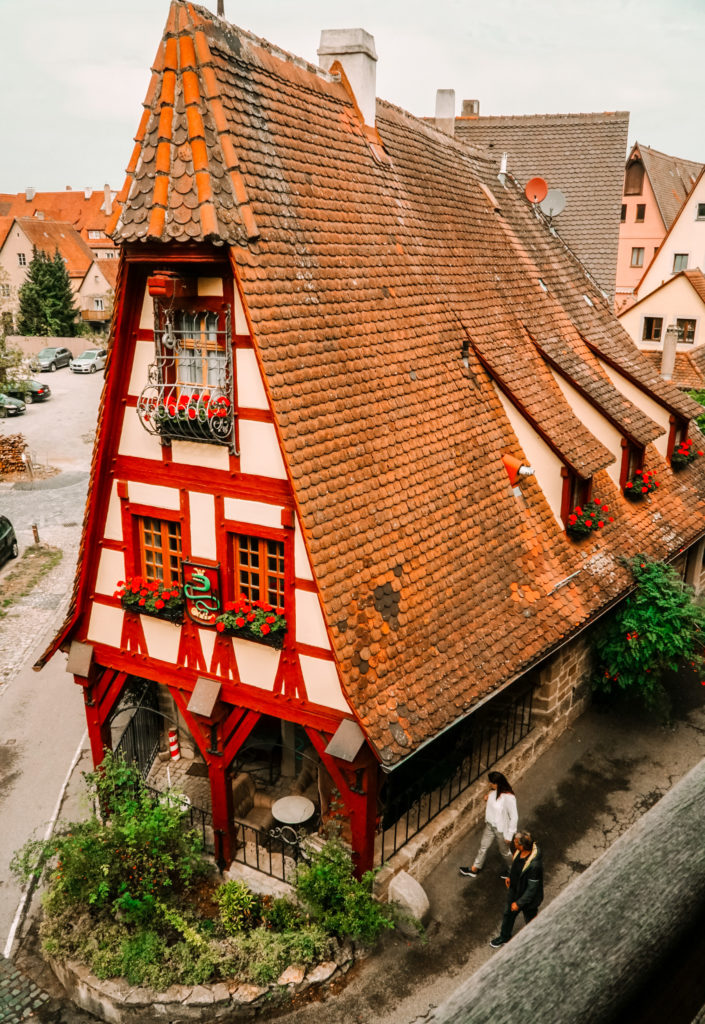 We walked a part of the wall, then descended a stone staircase to see the town on ground level.
The colorful buildings are eye-catching.
The picturesque pharmacy sits at the edge of the market square.  The City Hall building in the square features an astronomical clock.
One building's architecture includes statues that depict the seven virtues and the seven deadly sins.
If you go to Rothenburg, I highly recommend you visit the Medieval Crime Museum. Billed as "Europe's most important museum for jurisprudence," it showcases means of torture and punishment through the centuries. The official brochure recommends the museum for those "of a bloodthirsty disposition," but I think anyone will find fascinating objects and history here.
Emerging from the dark museum back into the village, we found more lighthearted sights: People with their pups and lots of shops. I found the Teddy Bear Store enchanting.
Walking the wall of Rothenburg is a good introduction to the village. Then explore as much as you like. A day in this place that is somewhat frozen in time will leave you refreshed.
Linking up with Image-in-ing, Monday Murals, Pictorial Tuesday, Wednesday Around the World, The Good, the Random, the Fun, Through My Lens, Seasons, Our World Tuesday, Photo Friday, Travel Photo Thursday, Weekend Wanderlust, Faraway Files, The Weekly Postcard, Wanderful Wednesday, Feet Do Travel, Weekend Wanderlust, Nanahood, City Tripping, and Weekend Travel Inspiration.

PIN IT FOR LATER!!!